Four Seasons Sayan Bali
Joint Exhibition
It may sound hollow, but
painting in 5-star luxury is challenging. Room service brings breakfast and I leave to my studio above the raging Ayung River. The lavender palm trees rise up from the jungle floor beyond the swimming pool. The gym and restaurant are both first class. So one wonders why it took us so long to find our bearings in the No. 1 Best of The Best, CondeNast Traveler Readers' Choice Awards,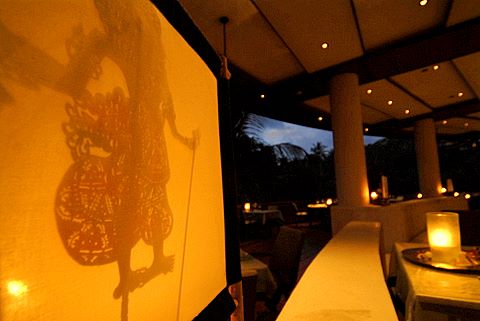 October 2006. I suppose it has to do with energy and expectations. The valley spirits
were here first. We must honor and respect nature in order to begin to express it in paint or film. And then our own expectations of what we think we should do get in the way of what comes naturally from living and working in this special spot. And finally it takes time to get to a place where one can stop trying to be creative and allow paintings and photos to emerge not to mention that this would be Angie and my first joint exhibit.
Fortunately, the friendly resort staff was always there to assist us along the way. Angie focused her camera on the cultural and personal aspects of life in Ubud with all its ceremonies and festivals. She attended weddings,burials and performances seeking to catch a glimpse of what is so strong in these people that even after decades of external bombardment they still hold tight to their identity and roots. I on the other hand, choseto paint the nature and the religious imagery found in this deeply spiritual valley. So after two weeks, the river begins to flow through our work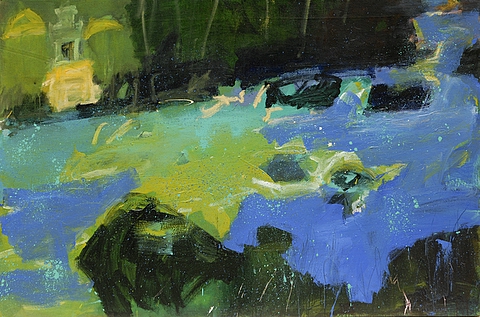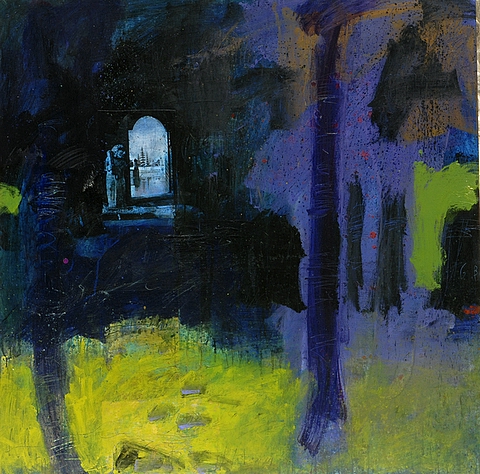 and we no longer need to struggle up stream to see what is around the next bend.All is now within us as we bounce along our journey as artists seeking to do justice to the wonder and magic that envelops Ubud and Bali.
Then suddenly I knew all was as it should be when upon moving one of my paintings in my studio I discovered that a small brown snake had made its home entangled in the painting's stretcher bars. I moved the painting close to the door and asked him to go back to nature before I returned the next day.
Communicating with nature is where and when magic and art begin to flow.
---