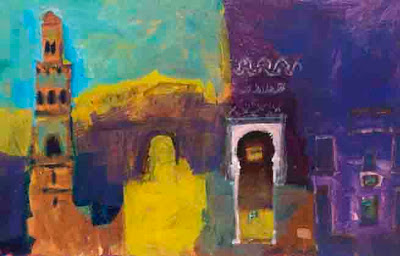 Moroccan Medley
We transit from Singapore at Dubai en-route to Casablanca. The packed international airport like Disneyland for a United Nations of shoppers and it's barely six in the morning. Women wrapped from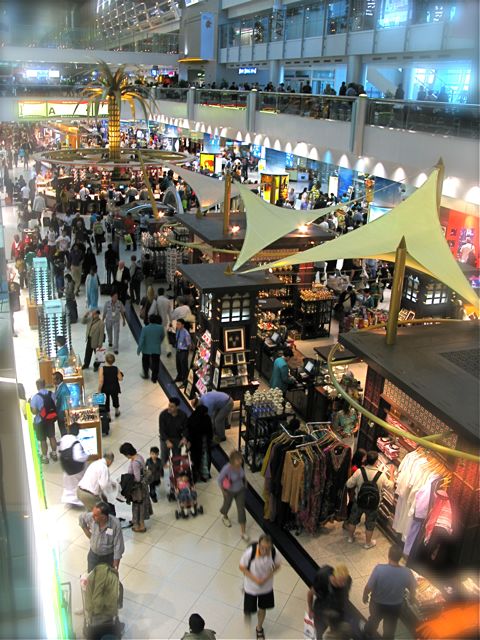 head to toe wearing Christian Dior bumblebee sunglasses browse for gold and electronic goods.
Landing into a toasted Casablanca we transit to the train that will take us north to Marrakech.Not knowing any better, we take 2nd class seats for the 3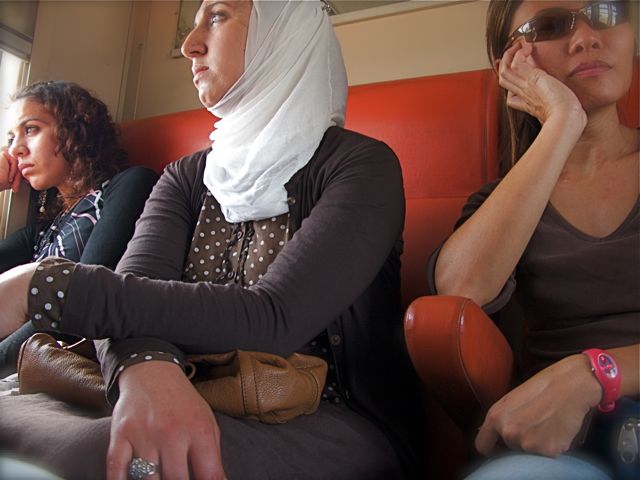 hours of roasting across a parched and barren landscape of scrubby cactus pocked with walled Kasbahs. The country feels like a cross between Mexico and France with its pink-tan stucco walls and 'sortie' signs. A thankful breeze occasionally interrupts the punishing sun, which broils all below the sheltering sky.

Dehydrated but jubilant we arrive in Marrakech and begin our stay at the Angsana Riads in the Medina. The friendly shopkeepers and neighborhood children do not fit the guarded descriptions we expected from our guidebook. We feel welcomed and at home wandering the maze of alleyways carved between pastel colored buildings.


High walls and decorative doors protecting inner sanctuaries from harsh sunlight and outsiders while an army of cats keep all rats at bay.

part 2
Angie and I survey six Riads in the Angsana Collection and find each unique and appealing. The word 'Riad' means "inside garden" or "courtyard" which traditionally must include the elements of water and foliage.
The configurations of these inner courts, surrounded by walls

and rooms create intimate cocoons where we feel at ease and cloistered yet connected to nature with the open sky above filled with azure blues, chirping birds and twinkling stars at night. The Riad is a contained swatch of nature where humans connect with the earth and themselves.
The narrow alleyways that squirrel between

and connect these enclosed compounds are a labyrinth easily to be lost in. Peach, pink, ochre and mauve walls jut up all around you as bicycles; donkey carts and humans vie for a section of path to navigate home on.
Everything is intimate. In the Medina one is confronted with sensory overload until you open the unique and intricate door to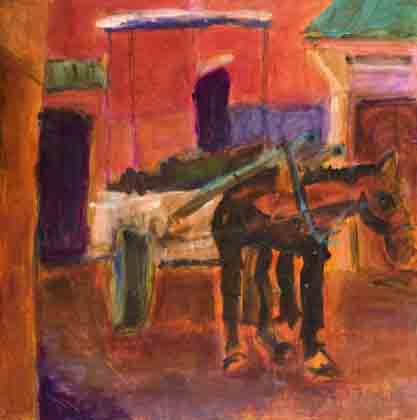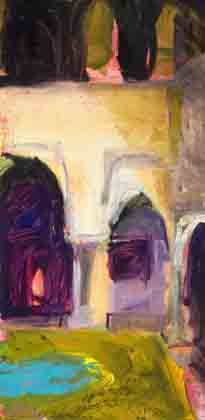 your courtyard and leave all of that behind.
Recharging inside for tomorrow's next onslaught.
We have been given Riad Dar Zaouia for my painting studio. Blessed with an open-air courtyard in which to paint, I begin to make sense of the dozens of sketches I have created in our first few weeks scrambling around. I try to connect with this feeling of protection, which the Riads provide, juxtaposed to the somewhat controlled mayhem of that which is outside the door.
Doors and walls figure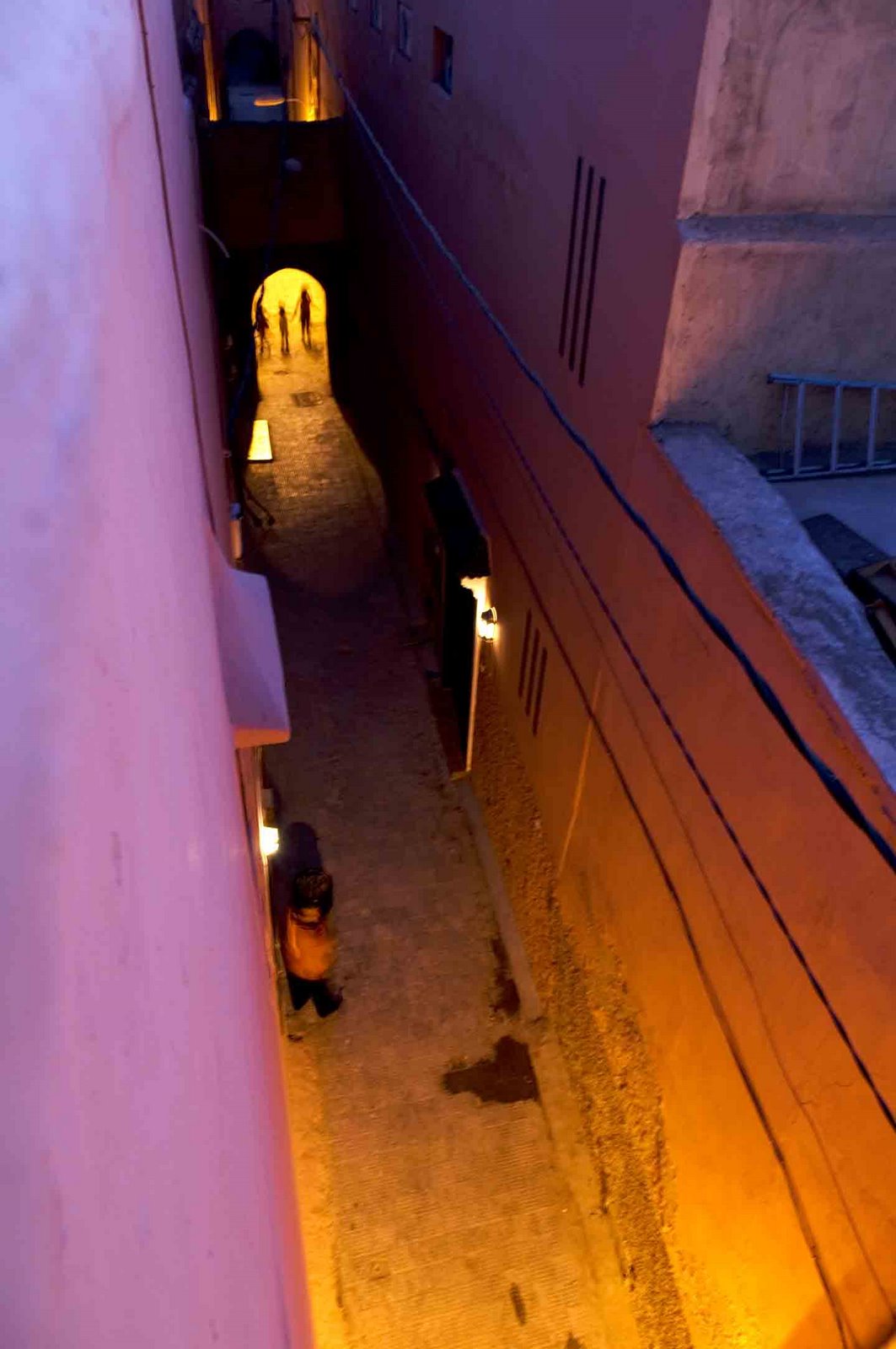 prominently in this discourse. Each offering a lifetime of experiences as the river of humanity ebbs and flows throughout.
While I paint this internal world, Angie photographs the spectrum of life that abounds beyond the portals.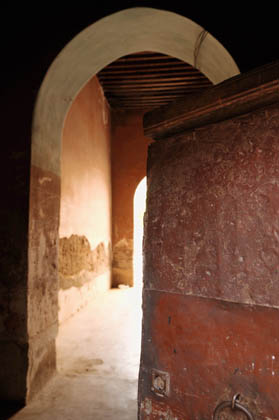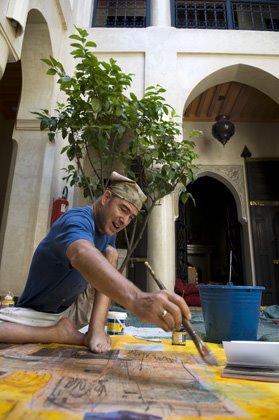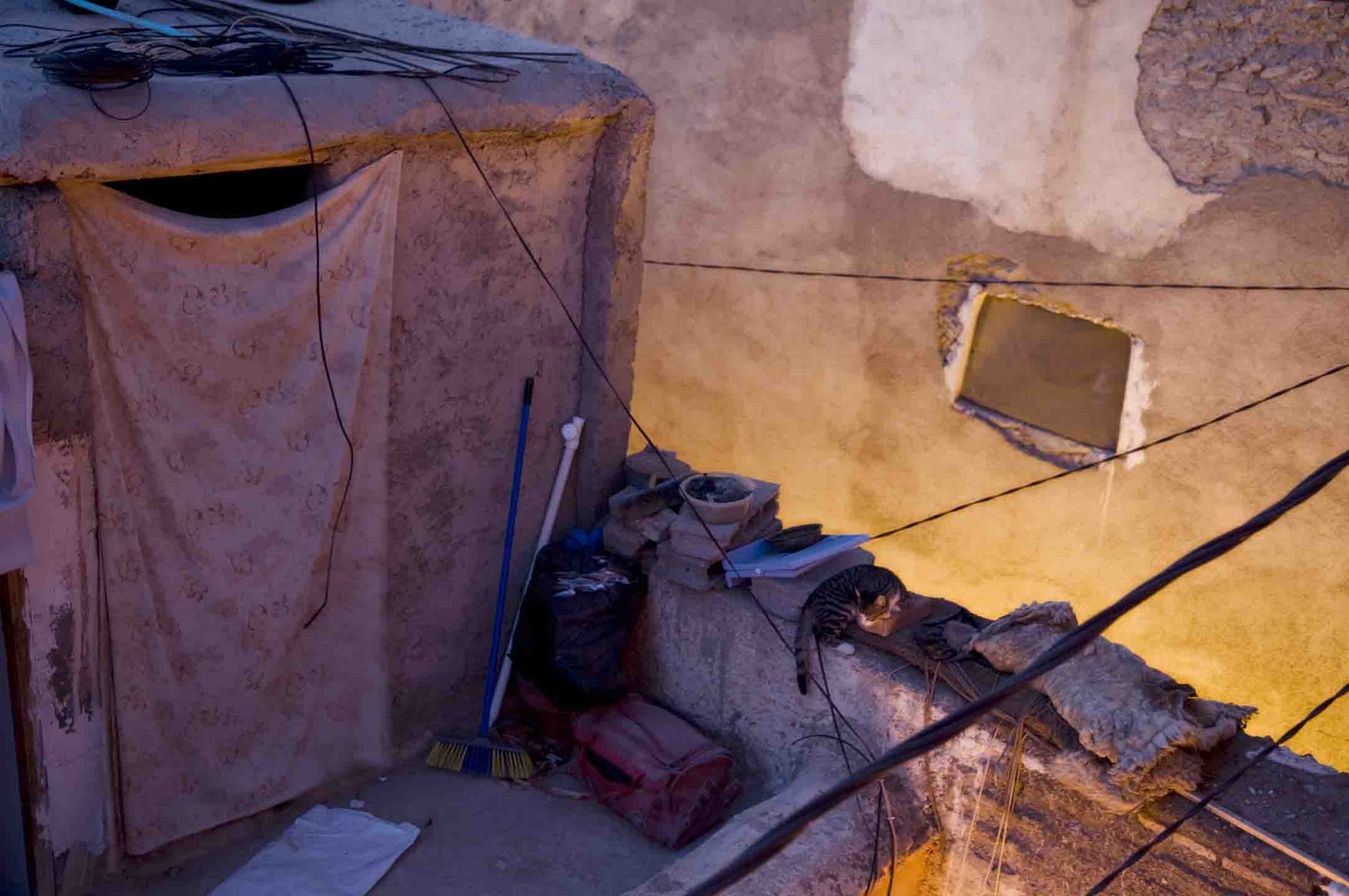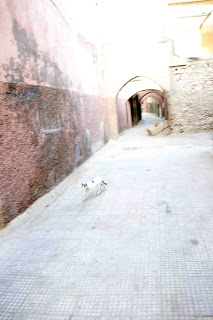 We are up at dawn to see the kittens nipping at the plastic bags of garbage left outside each door.

Angie looks for the light as it paints the walls with earth tones and pastel pinks. Respectful not to photograph locals unless given permission, she focuses the cornucopia of life that swirls around us.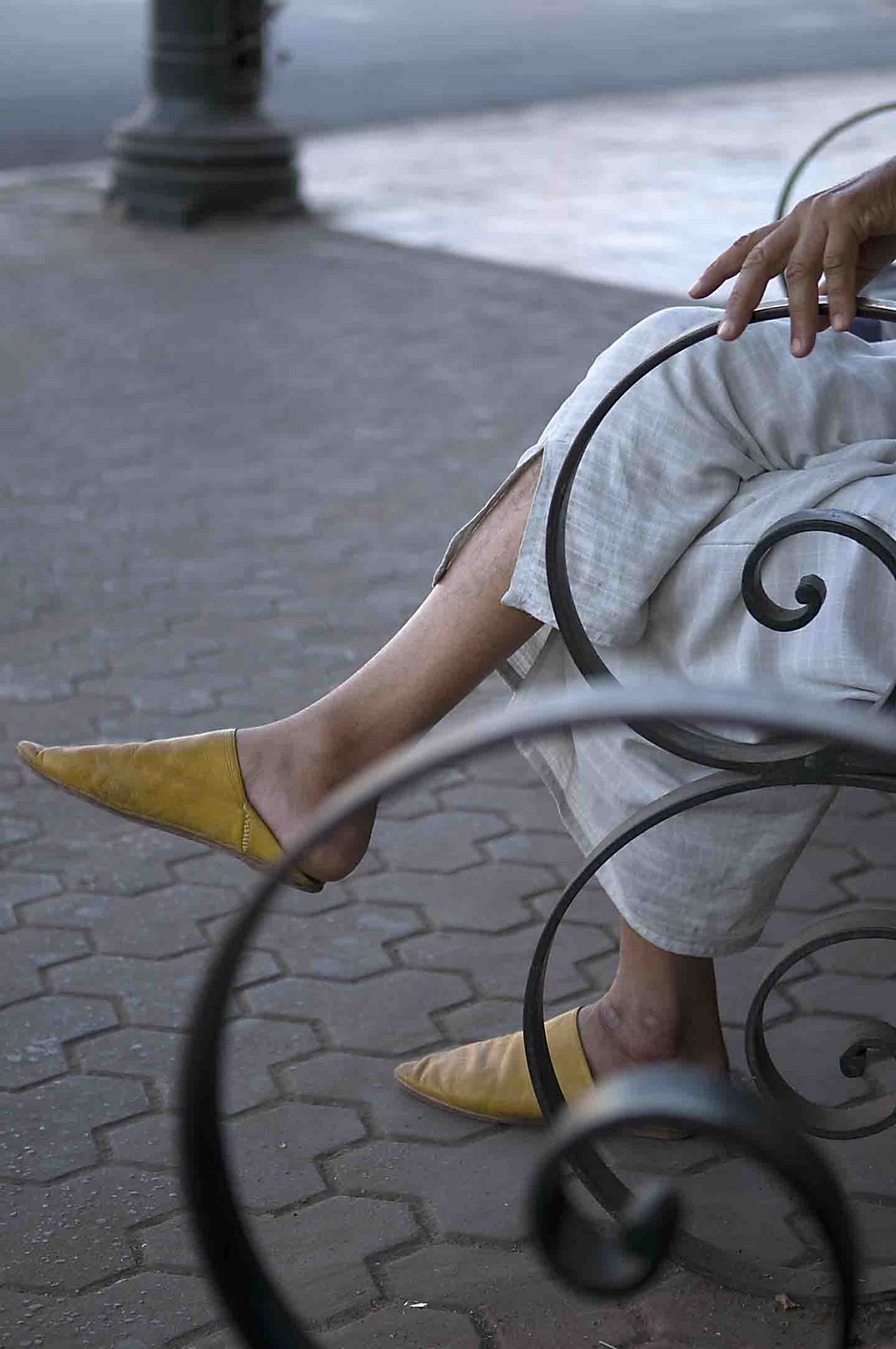 Looking down from roof gardens, like a loving sniper she shoots the exotic costumes and commerce of those in Jemaa El Fna- a market of trade with seductive merchants.
We have seen both sides of these emotional people with their hand holding and warm embraces. The codling of children and respect for cats warms the heart and yet without notice, a conversation between a mother and son or boy and girl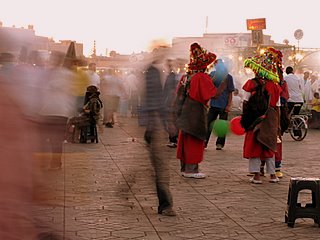 can turn into a slap up with wailing and shouting. We see there is equal passion for connecting and rejecting.



Venturing out of the Medina we finally head towards the dessert to see sand. Lots of hot sand and a few patches of green. The green oasis spots cling to any minor water source.


The lifeblood leached from a begrudging sandy plain in order to color the landscape with olive and ochre. Around these lush spaces are stone homes of mud and sand. Eking a living from the land the Berber natives live with this blast furnace of an environment, which we tourists stumble through in a heated daze.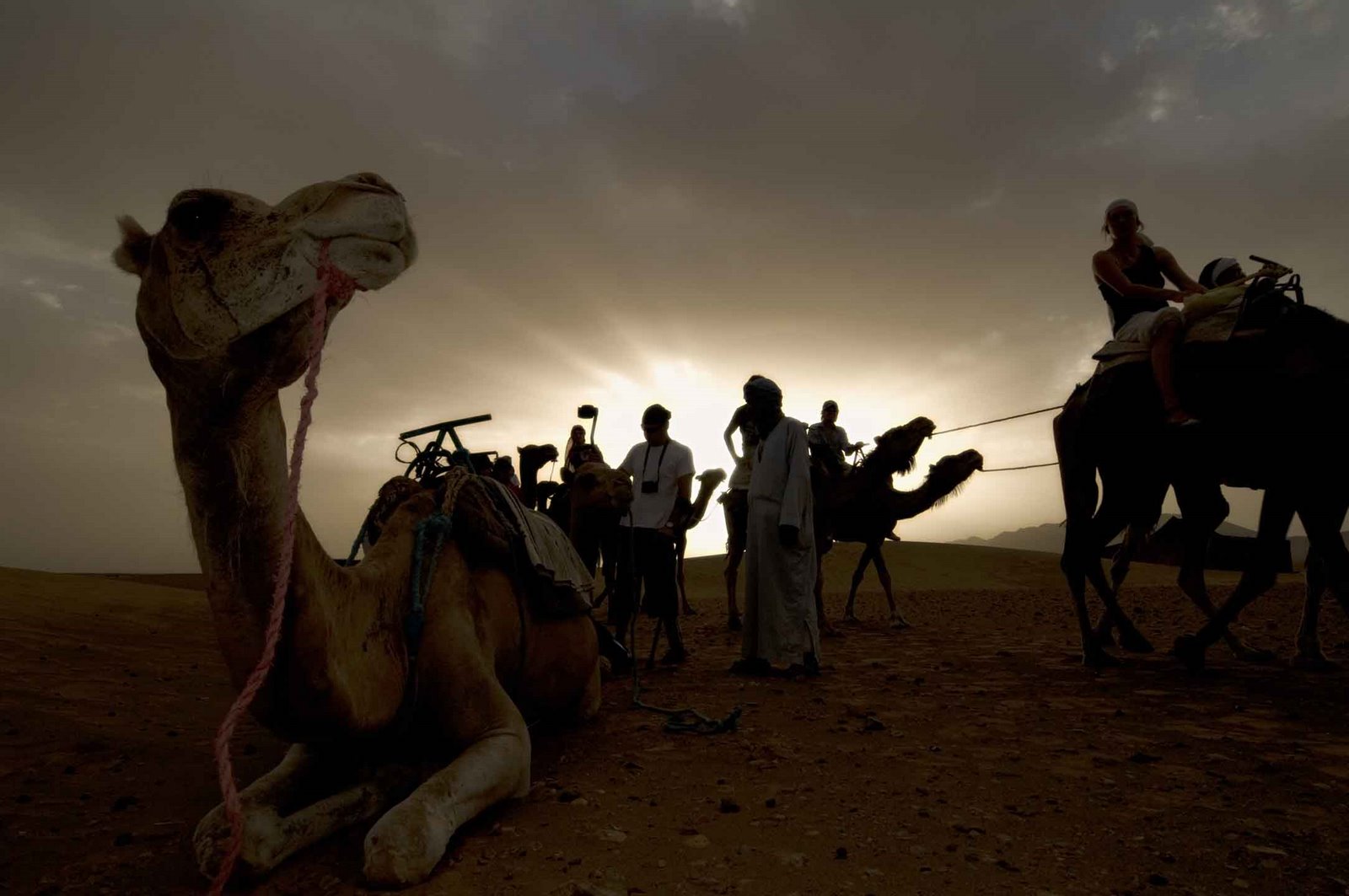 I am fascinated with the sanctuary of the oasis. Surrounded by nothing but baked scorched sand. Like the Riad these compounds provide shelter and a retreat from heat and dessert harshness.

We ride camels and reach our Berber tents before sunset and just in time do experience a real live sand storm. Minute graduals blanket everything and even make their way into every tooth and zipper. At 10pm we turn in but it is still 40 degrees Celsius and the wind has died and we are not far behind. We languish on mats outside our tents but can't sleep in this endless dessert oven.
Having eaten enough Sahara sand, we return to Marrakech to hold my exhibition at the Riad Si Said.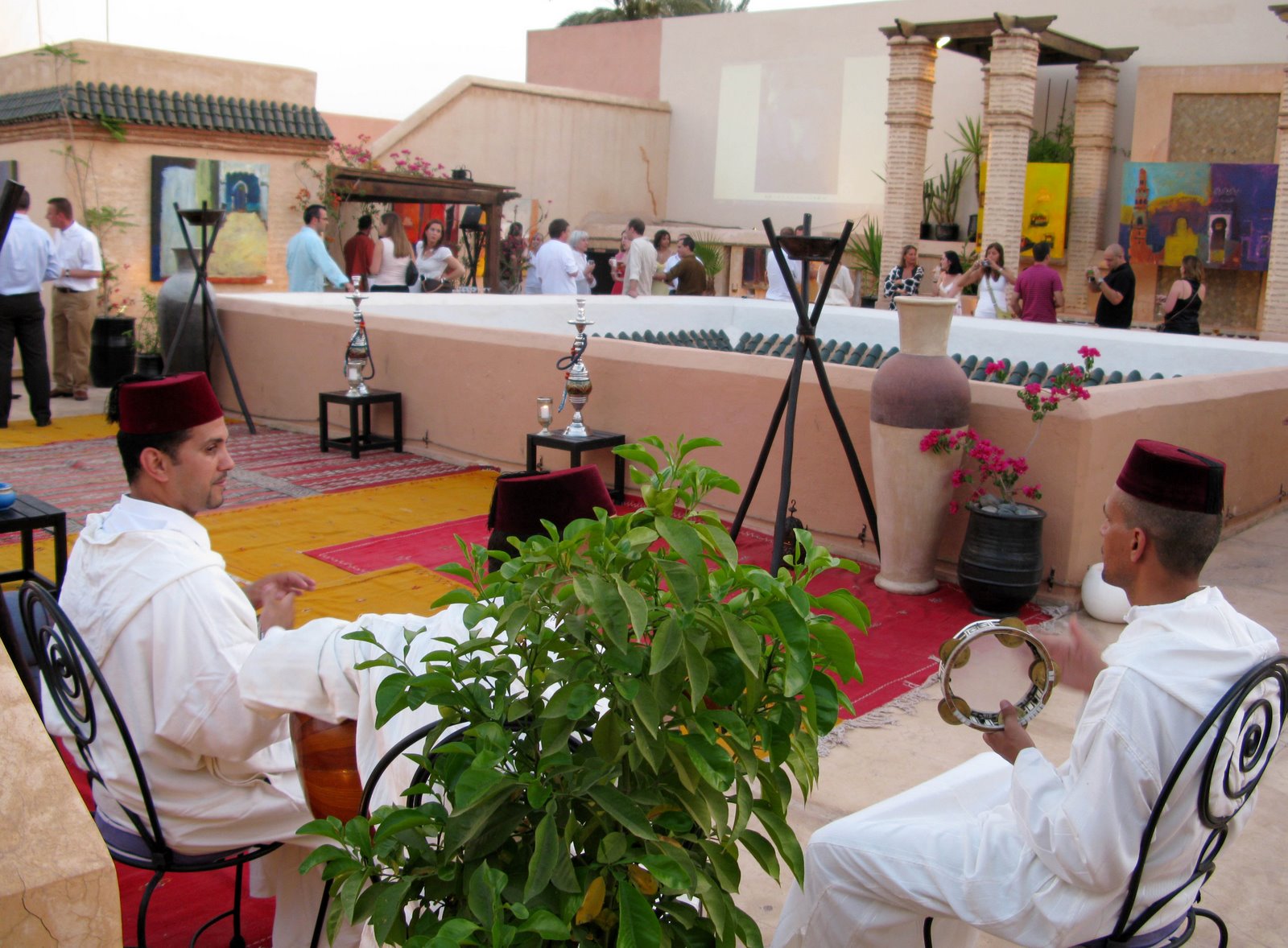 To showcase the series, Angie orchestrates the paintings to greet guests at the Riad's entrance and then punctuates a pathway to the rooftop where the body of paintings looks remarkable set off by the pastel colored walls and traditional carpets of the terrace.

Our season here draws to a close. We prepare to depart this oasis in the dessert full of colors and images that combine a relaxed form of Islam with encroaching modernity.

Our senses filled to overflowing we leave laden with photos and paintings that hopefully attest to the dynamic mix of old and new, man and nature, God and all that lies below heaven and the sheltering sky.

---