In ancient times, the Thai nobility built temples and protective walls of deep red earthen bricks; the rich color still penetrating centuries later. Entering the Anantara resort presents the guest with a similar sensation of walking into a peaceful and protected enclave. We immediately felt at home.


Our residency came as a welcome follow-up to our stint scuba diving in the Similan Islands to the north.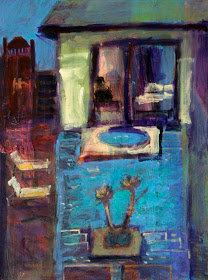 Villa 40 became our refuge and the resort our landscape which Angie and I immediately began recording in pixels and paint.
surrounding ponds and waterways, the property envelopes visitors and the outside world disappears.Pool and pond side restaurants as well as the Tree House Bar offered us panoramic views to indulge in.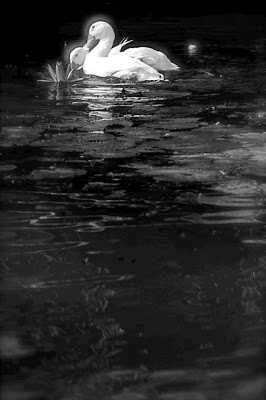 By the beach, the Infinity Bar was the place for sunsets. Sinking into over-sized lounge chairs, we absorbed while the sky turned from peach to pink and the egrets and ducks made their ways home for the night.
A day of painting and photographing complete, we only needed to choose where to eat.
 After several weeks living and working in this charming environment, it was time to put a period at the end of our experience and install the exhibition at the Sea, Fire, Salt restaurant.
With the Andaman Sea as backdrop, Angie floated paintings on both internal and external walls to create an indoor and outdoor gallery. We presented a slideshow of her photos and tried to sum up our experience in this

contemporary sanctuary beside the sea which we found so incredibly hard to leave.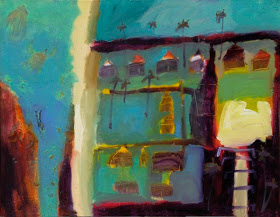 ---