Hunkered down in Grandma's House at The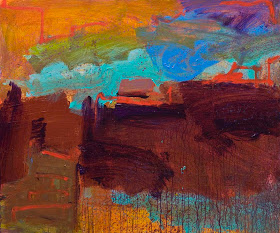 Schoolhouse at MuTianYu has been
invigorating. The grounding influences of village life mixed with the intriguing vistas of the Great Wall have fueled and filled my creative spirit. Hawks and pine trees pepper the skyline while we hike the Wall and country roads.
My studio is the converted Schoolhouse art room. Left to my own devices I have transformed a perfectly clean and respectable space into a splatter-filled chamber filled with paintings in various states of disarray and hungry mosquitoes seeking foreign investments.
After working through dozens of sketches and small paintings created while traipsing through the Wall and the surrounding neighborhood, I begin working up some canvases. Thickened with images of the Wall and old village homes, I try to make some sense of our residence for the month. Returning day after day to the same menu, slowly the digested images begin to take shape on the canvas. The first brooding colors are replaced by some optimism. The details of turrets and portals dissolve and are replaced with gestures and colors.
In the end, nothing survives except the fleeting glimpses of a magnificent month of painting in and around one of China's unique natural and man-made wonders.
---