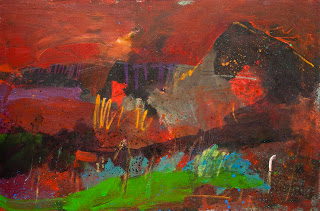 Tucked between the mountains and the sea, Alila Villas Soori embraces and inspires. Verdant green fields, ripe and rich with rice, attract swallows and sightseers, feeding on the landscape. Lavender sand beaches stretching beyond view, offer space to roam freely where crashing waves energize the air. All one needs can be found here, nourishment for the body, heart and soul. No reason to leave. Resting here and now, we recharge.
Cloistered in our villa-cum studio, the vistas outside do little to reflect the anguish inside as I try to formulate an approach to painting this utopia. With the sea pounding and the fields swaying, I am vexed with trying to create some harmony out of all the disparate elements. Gradually though, after filling a sketchbook with scribbles, my brush and paint begin to synchronize into something that feels a bit like this oasis.
Like the waves, I hammer away in my studio until slowly, like the sand on the beach, my vision crystallizes while colors and forms begin flowing together. Combining imagery with gestures, I try to create something, which speaks not only of this magical spot, but also of a universal respite we all seek where time and space are abundant and we quietly reconnect with ourselves.
---