On my birthday, an email invitation to join a Seabourn Cruise as a guest lecturer in less than a week landed in my inbox. We would rendezvous with the vessel in Israel before sailing through the Suez Canal and on to Jordan, Egypt and finally Oman. Knowing little about the entire region, except that they were on the bucket list, we just said YES.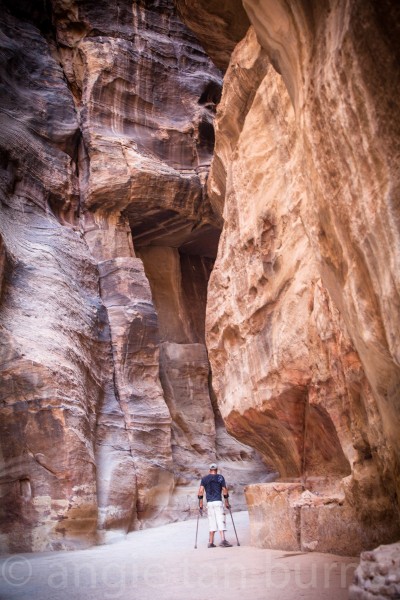 Israel grabbed us before we reached the plane. Interrogations were performed to determine if we had evil intentions towards the national carrier or country. Security screening was intense. Finally, after boarding what should take seven hours, our El Al flight expanded into a ten-hour haul as we detoured around any Arab air space. Getting through customs upon arrival in Tel Aviv went smoothly but further interviews and security screenings awaited us at the port of Ashdod through which we had to pass to join the ship. Israel is constantly on a war footing and we are questioned by seasoned females in camouflage uniforms who surly could break us into pieces should they wish. After finally getting through the gauntlet, we boarded Seabourn Odyssey before heading towards the Suez Canal.
Under clock of darkness we entered the Canal and began a quiet cruise towards the Red Sea. At dawn we stood on the observation deck watching as our vessel sliced through mysteriously thick fog and the thin lane of water, which divides the African and Asia sections of Egypt. We had views of barren sand dunes stretching East and West with the occasional palm tree or town jutting up out of the mist. Far below, tiny fishing boats with a passenger or two bobbed in our swell.
The first art class went well with a good collection of novice to professional artists in attendance. Offering them permission to do what they wanted with a smidge of guidance was on the menu and we bonded immediately.
After a stunning sunset with rich violet and mauve hues splashed across the puffy clouds we watched as a flock of seagulls dove for what we assumed to be fish attracted by the light from our passing ship. The birds circled, dove, circled dove and repeated as they enjoyed the rich bounty churned up in our wake. By dawn we had reached the town of Hurghada, Egypt, where the local entrepreneurs waited to feed on us.
Known more for its decadence than anything else, the wasted town had little to offer but some scruffy taxi drivers and tourist shops. Guests leaving the harbor in jeeps for tours of the nearby dunes were given military escorts with machine guns and flak jackets. The officer on our bus only carried a pistol. After being dropped off on a dingy street corner near the sea, we found a spit of stone outcropping and managed a quick swim amongst the purple and lavender corals. No need to revisit this town and we were pleased to sail off to Jordan.
Anchoring in Aqubah, Jordan's only port, we were whisked off to the wonders of Petra. Originally this was a settlement where water was found and then sold to passing sheep and camel herders. Carved out of sandstone cliffs, the structures of this ancient town adorn the walls along deep steep passageways that twist their way through a maze of naturally made alleys. Early Roman ruins are sprinkled throughout the grottos, which we wandered through along with masses of tourists, donkey carts, camels and mules. Sketching and photographing this site offered a rich palette of scenes and subjects. Hiking through the narrow canyons I was filled with a strange sensation that I somehow belonged here- perhaps referencing a past life as some ancient warrior that I never knew I had.
Leaving port after sunset we again set sail for Egypt but this time for the ruins of Luxor. Before leaving the port at Safaga our shadow security team donned their flak jackets and machine guns and then climbed into an open-air Toyota truck as our convoy set off for what would be 5 hours of speed bumps and check points before reaching the Valley of the Kings on the West bank of the Nile. Tombs dating back 3500 years tucked into the mountainside of these sandstone hills attract hoards of archeologists and tourists despite the region's security issues. As our tour group needed to stay on schedule, we were only allowed a quick swipe at two of Ramses' graves before hustling off for the ruins of Karnak. Here, with a bit more time, I was able to sketch a few works before being rushing off to Luxor for a few final sketches at sunset. A whirlwind tour of Egypt's antiquities before another 4-hour ride back to the boat. A very long day for a very short but rich visit.
Setting sail again, we head off down the Red Sea towards the Gulf of Aden and on to Oman. As pirates in the area are a real threat, we had taken on six rugged security officers dressed in black that arrived by Zodiac along with enough 'equipment' to wage a war. The southern opening to the Red Sea is where piracy concerns deepen. These waters are not safe and our speed of 18 to 22 knots is meant to deter small skiffs from chasing us down and boarding. We sailed through a non-descript sea without incident as I lectured and gained weight at the buffet.
Having run the gauntlet, we arrived safely at the Port of Salalah with a bit of relief and time to visit parts of this prosperous city where most locals work for the government, own multiple cars they fuel with $2 per gallon gas but have courtship patterns I had difficulty to understand. Packing our luggage and making our way to the airport brought us to the close of another great adventure. But we left with new insights into a section of the planet we'd never experienced and friendships we'd never forget. Travel by boat brought us closer to others and to ourselves. It enriched our lives and as long as we could adjust to too many time zones, and carry too many paintings and cameras, we surfaced with bigger perspectives and possibilities.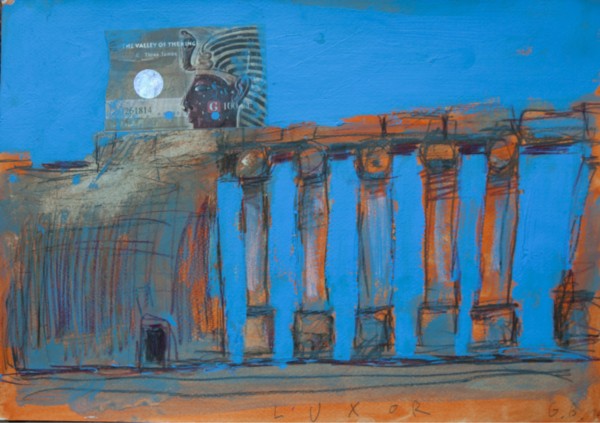 ---